There are reasons why some of the blogs appear right on the first page of the search engine and the rest remain on the next pages. Every blogger or website owner wants his domain to rank higher on Google. Obviously, because the next pages hardly undergo the reader's vision. And the only way to get your content visible is by knowing what is SEO and by executing the SEO practices.
What is SEO?
SEO(Search Engine Optimization) is the practice of optimizing your website as per search engine requirements in order to get a higher ranking in SERPs. The advantageous part of practicing SEO is driving a lot of organic traffic to your website for a very long period. After understanding what is SEO, it is essential to understand the ranking factors and how to nurture them for optimizing the content. Here, we will explain the entire workarounds of SEO.
How Do Search Engines Work?
Search Engines like Google, Bing, Mozilla Firefox etc. have their own database for indexing a specific query. As soon as you enter a keyword on a search engine bar, it scrutinizes all the relatable pages as per the density and usefulness of the Keyword & reverts with the most relevant results. It has a unique computer program known as Algorithm. Exactly how these algorithms work is still a matter to wonder, especially when it comes to Google algorithms. At least we can understand what is SEO and how it works.
According to the experts, these search algorithms minutely analyze several factors on placing any query. These factors include the exact words of your Keyword, usefulness, and relevance of the index pages, your settings, and location and the sources' expertise. The algorithms put specific weight to each of the factors relying upon the type of your query for example- to answer on a recent news Google optimizes the date and time of the content published and shows you the most recent results. In today's world, most web searchers prefer Google as one of the reliable search engines. And that's undoubtedly the reason that Google has kept the trusted Algorithm till now.
Therefore, it is important to know how do Search Engine works, what is SEO and how does it work and help in making our content more visible.
How Does SEO Work?
SEO is the procedure of convincing the search engines that the content you published carries the most relevant & valid information on the specific topic. The reason behind this is that every search engine wants to reflect the most relevant results which make sense to their users. In short, the search engine you have chosen to optimize your content for, helps you decide how you can execute your content. Therefore, it is important to understand how does SEO works, like understanding what is SEO.
Undoubtedly, you have to explore Google's existing algorithms to understand the trend of attaining higher organic traffic for web pages. In case of any video, you wish to promote; you need to follow YouTube's Algorithm.
Black Hat vs White Hat SEO
Search engine optimization is a lengthy and tricky process, it is not limited to the definition of what is SEO, therefore should be learnt & understood from the core, There are two types of practices in SEO for ranking your website on a search engine- Black Hat & White Hat.
Black Hat SEOs have a primary goal to achieve a few thousand dollars real quick. This sort of practice in SEO optimizes your content by emphasizing only on the search engine and not at all the users. This approach is absolutely spammy, and these unethical pages are mostly banned right after a few days of its ranking.
White Hat SEO is a process of building a trusted and sustainable online business. This practice specifically emphasizes on the audience and works accordingly to fulfil all the grounds of SEO. You have to provide them with the best content, and they work on establishing it as per the search engine guidelines. Therefore, it's needless to say that opting for White Hat SEO is a trusted way to achieve more organic traffic.
In between the Black and White Hat debate, there exists "Grey Hat SEO" that comes with the features of black and white SEO. With Grey Hat, you are tactfully gaming the system without tricking or trying to fool anyone.
How Does SEO Work For Google?
Google is the primary search engine for the world. Therefore, it has its own ranking system, and only knowing the basics like what is SEO and how it works is not enough. There are more than 200 ranking factors in Google. It's impossible to know all these factors evidently, though we have figured out some of them. By observing the correlations between Google rankings and various factors. After understanding what is SEO, the following factors need to be kept in mind-
Google prioritizes the webpages, not the websites
Suppose your business is about 'Online Grocery Services' doesn't mean that all your web pages will be ranked for – 'Online Grocery services'. Therefore, you need to research and promote different keywords or topics for every of your web pages. Factors affecting search engine visibility and page rankings-
Crawlability
Before you consider content ranking, you must prove your authenticity to Google about your existence. Crawling is the first and foremost technique of Google to discover fresh content. Thus Google indexes those fresh links on the pages and analyses them based upon further factors.
To execute this process, it has a specific computer program known as Spider.
Suppose, you have used an already recognized web page to create it as a backlink of your homepage. So whenever it crawls that specific site, it will go through the link to land onto the homepage of your website. Which in turn includes your homepage to the Google index and this way they further crawl and discover the rest of the pages of your site.
CONDITIONS that may block Google crawlers:
Invalid Internal Linking- Google mostly keeps faith in internal links for crawling all your website pages. Therefore, pages without a single interlink or invalid links won't come under the vision of Google.
Interlinks with nofollow tags- No followed internal links on pages won't undergo Google crawling.
No index Pages- You can simply use noindex HTTP Header or Meta tag for excluding pages from the Google index. In case the other pages contain interlinks from those non-index pages, they probably won't be crawled by Google.
Robots.txt blockage- It is a file to explain Google where it can't and can visit on your website. Google won't crawl the pages that are blocked here.
Mobile Compatibility
Almost 63% of Google searches are directed from mobile devices. And the number is rising rapidly every year. In 2018, Google shifted it's indexing to the mobile-first platform. It means the crawlers are now going through your web page's mobile version to index & rank content. 
Almost 80 out of 100 customers will hit the back button if the content is displaying its desktop version on their mobile devices. Therefore, you must optimize your pages for mobile devices as well to make your users stick around to your content. There's a mobile-friendly testing tool of Google where you can see the mobile compatibility of your web pages.
Pagespeed
Pagespeed is a popular term in SEO which indicates the loading speed of your web page for both mobile and desktop, and it works as an essential factor for Google indexing. In case a user has clicked on the web page which takes minutes to load, it might automatically lead to his dissatisfaction. There's a Pagespeed Insights tool from Google which helps you identify the loading speed of your web pages. The faster your web pages respond the more credibility it gains from Google.
Search intent
To find the Keyword or bunch of keywords for the web pages, you just have to paste your query into a keyword research tool. It shows you relevant keyword ideas along with their search volumes. And there comes the concept of involving primary Keyword, secondary keywords, long-tail keywords, etc in content.
Despite the two keywords being almost similar, Google brings search results for both by two entirely different sets.
As soon as a query is placed, Google interprets it's motive and tries to show results relevant to the user's concerns. This entire process is basically known as search intent. Now the question comes to how you can optimize your web page for this.
Let's look at the "3 C's of the search intent" discussed below:
Type of the content: This indicates whether the content is a product page, landing page, blog post, or a category page.
Format of the Content: Mostly, for the information-rich content, there are specific formats for lifestyle articles, comparisons, how-to guides, tutorials, and pieces of opinion.
Content angle: There's a unique selling approach for the top-ranking pages on Google. Whether the content is sales-oriented or informative, it decides the content angle.
Apart from these points, there are certain SERP features that may help you bring out the most relevant keywords for your topic.
Backlinks
PageRank is an essential aspect of Google algorithms. In this system, the backlinks existing on a page are interpreted as votes. And naturally more votes lead to a higher ranking on the search engine.
In case your content is quite worthwhile, including relevant and valid backlinks definitely makes sense. The most challenging part is building valid links for certain types of contents. There are enormous link building techniques available on the internet. However, you may opt for a free backlink checker or a blog post which portrays the entire process of creating backlinks.
The best way is to enter your target keyword on the Google search bar and navigate to the pages that are worse than yours. Now open one free backlink checker and paste the URL to find out its top 100 links. Now reach out to those websites and convince them why your content is more worthwhile and credible. This entire process is called the Skyscraper Technique.
Authority
The weight of every backlink differs from the other. This fact contributes to the  PageRank workaround. Getting backlinks from high authority pages is important to strengthen the credibility of your page. As Google stopped displaying public page rank scores, there's no way to check the authority of the web page.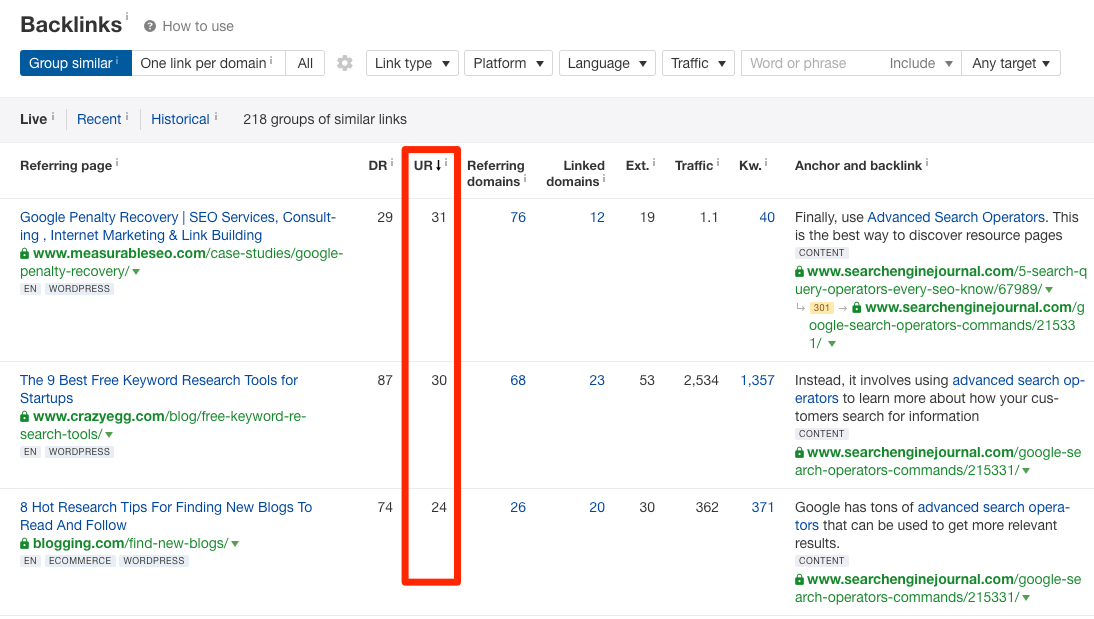 There's a scale from 0 to 100 from running URL rating. It considers both the quality and quantity of backlinks to the webpage. Therefore, there's clearly a positive correlation between organic search traffic and UR- (URL Rating). This is the reason for prioritizing the links from high authority pages while building backlinks for your content.
URL rating mostly considers the internal links, which means the more interlinks you create in between your website pages, the higher authority your page gains from Google. In short, you wish to elevate the authority of a specific page, and you may consider some high authority pages and add relevant internal links from there.
Content Quality
Google always prefers to rank the most trusted and effective search results. To do this, it mostly consider signals that are commonly known as EAT (Expertise, Authoritativeness, Trustworthiness).
Here are a few useful tactics to improve the quality of your content:
Try to get 7th or 8th Grade writing level.
Make your sentences short and avoid chunks.
Put appropriate links leading to relevant resources.
Put quotation, images and break the huge text walls.
The more accessible your content is to all the stages of the researchers, the more useful it becomes to Google. Apart from that, the freshness of your content is also a deciding factor to Google, as it only reflects the most recent information regarding a query.
However, the how-tos and tutorials fall under different categories where the right information is more important than the content freshness.
Why is ranking an overrated factor?
While ranking a page, Google considers several factors including past search history, search settings, and location. It means search results of the same Keyword differ from country to country. The reason behind this is different meanings of one single Keyword in different countries. Google tailors your query and shows up with the results, that are most relevant and useful to you at that moment.
This is the reason why you should pay more attention to gain organic traffic than crawl higher on the rank. Google analytics, makes more sense in driving more organic traffic to your webpages.
Endnotes
Hopefully, the content has clarified what is SEO, how the search engines work and what are the attributes they seek for a web page ranking. Quite evidently, these search engine algorithms keep changing from time to time. Therefore, whatever is important today may not be considered tomorrow. However, the important factors such as Authority, Backlinks, and Search intent, etc. remain consistent over time. It is important to be up to date with the changes in SEO, and understand that only knowing what is SEO will not help. So work wisely and become a pro in SEO.
Also read:- https://auroravista.tech/blog/free-keyword-research-tools/