The world of search engine optimization has been seeing tremendous changes and expansion from the time one understood what they are about. SEO is an integral part of posting anything online in order to be found on the internet. Reasons for SEO are many; some want more traffic for their blogs to generate revenue through ads or some sell products and want traffic in order to convert the visitors into leads and customers. The main motive remains the same, so here we are with 7 effective SEO tips to boost your content.
The 3 main purposes of SEO are:
Get quality traffic to your website – You want those visitors which can potentially convert to customers hence they have to be genuinely interested in your product. So if someone wants apple computers but comes to the site of an apple farmer then that would not yield anything to your business.
Have more number of people coming to your site – Once the right kind of people are visiting your site, you want that quantity to increase and have better visibility
Need to get organic traffic – Ads are a major part of search result pages (SERPs) and any traffic which you do not have to pay for counts as organic traffic.
Before we dive into SEO tips and tricks, it is imperative to understand how they work.
How the "SE" part in SEO works– Once you enter a query into any of the search engine's search box, like Google or Bingo, the crawler of that search engine starts gathering information from all the content available on the net. This data is brought back to the search engine to build an index that is fed to an algorithm that tries to match the obtained data with the query you entered.
How the "O" part in SEO works- This part is where those who write the content make guesses about how the content should be formed so that it makes them attractive for a search engine to understand and list and users to like what they see via search engines. Optimization has many facets; from having relevant title tags and Meta descriptions that give enough information and have the optimum length to pointing to internal links to your pages which you proudly created.
With these fundamentals in your hand, we are ready to get into the nitty-gritty of some of SEO best practices. We have compiled here the most important SEO tips that tell you exactly what to do and what not to do when designing your web site for search engine optimization. SEO tips contain many aspects of SEO like on-page factors, link building, keyword searched, and a few more.
7 EFFECTIVE SEO TIPS TO BOOST RANKING
Research on keywords that work for your niche – This is the basic and most important part of SEO as one needs to understand what others search for, in your area of business. Some of the tips for finding the right keyword that is apt for your niche are: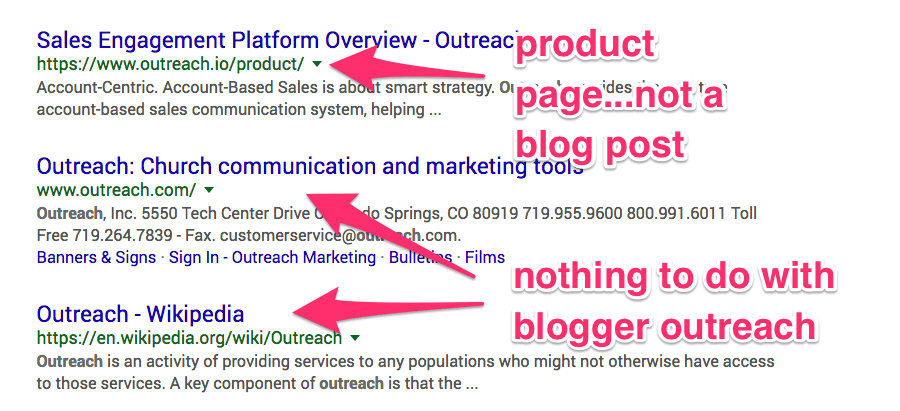 Screenshot showing the top 3 ranking pages in Google for the keyword "outreach". These results are vastly different to our content, meaning this isn't the best keyword to target.
Target and optimize for the right kind of keyword – The mistakes people do here is either they do not optimize for any keywords or add irrelevant keywords or too many keywords.
In order to achieve this, try to generate one important keyword for each page on your site and they should be different from each other. You can take help from friends by sending them a page and taking their opinion on what word comes to their mind when they read that page. That could give you a good clue for some relevant keyword(s). Also, Googling for keywords is important since you want to know what an important keyword is in Google's eyes. Since that is what matters in ranking your website.
Juicy keywords must be matched with the intent for search – Some keywords appear really juicy since they attract a lot of traffic. But sometimes that could be misleading.
For example, if you have a page which is a guide on using Google analytics then a little research might show you that keyword "Google analytics" is really juicy with over 1 million searches for this keyword.

But most people who do this search are probably looking to sign in to Google analytics and they will not even go to the 2nd page in the search result pages.

On the other hand, if you use something like "how to use Google analytics" there are tons of searches on this where the user has the intent of finding a guide that matches your page content. So choosing that is a better option for you.
New website owners need to go for less competitive keyword – If your website is new and you have low authority in your niche then going for a highly competitive keyword would not give you better chances to rank higher. For example, if you have a page on SEO then a keyword like "search engine optimization" would have many pages listed where your newly formed content would be lost way down in the ranking. So trying a less competitive keyword like "How SEO works" will have a better chance of giving you good search traffic.
Checking out competitor's keywords and incorporating them into yours – There are software available that could tell you which keywords in a competitor's website are giving them maximum traffic and you could use them in yours. There are also ways to get alerts whenever they add new keywords so that you are always up to date with the latest keywords pertaining to a topic.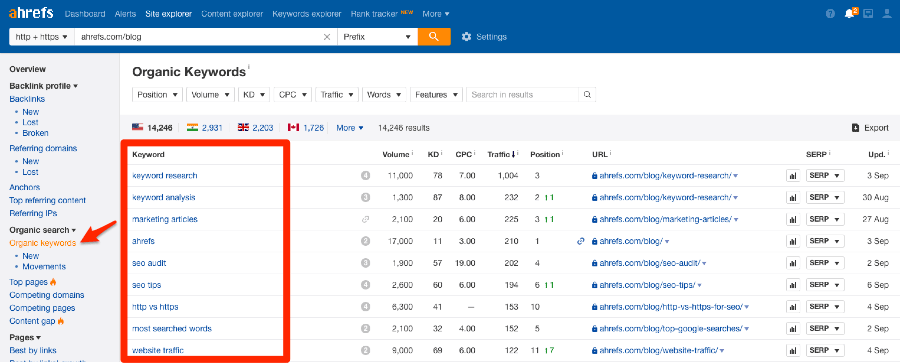 2. Have unique and relevant Meta descriptions for each of your pages – meta description is the first thing users see as part of search result listing. If it is not unique and engaging then you will lose readers. If you are using WordPress then software like Yoast plugins or All-In-One-Seo pack could help you fix this issue easily.
3. Design the actual content with care – Content creations isn't about just putting up words together on your website. The quality of content, information provided, and many other factors would determine your readers' time spent on your site. You could get ideas for content from the keyword you want to incorporate. Find proven ideas for such content on the net.
Begin with writing a tremendous introduction that has your reader hooked on to your content. Few tips here are to keep the introduction short and tell them exactly what your content would give them.

Keep your paragraphs short and easy to understand with short sentences. Using bullet points and numbered lists helps in better readability. If you can and if your content needs it then try to use multimedia all through the content, interspersed with videos and images.
4. Link out to other websites – A critical part of the growth in content writing is linking out to other blogs. This is fourth in our list of SEO tips. You might think that if you give links to other's pages with authoritative content then you are driving traffic off your page. But in reality, linking to valuable content makes your site a scalable and valuable resource. It helps you in building relationships with other site owners that write in your niche. There is also a small correlation between Google rankings and the number of outbound links in your content (though do not leverage on only this fact to get better ranking).
You can also get the favors back if you link other's sites. They are more likely and willing to link to your site on their blogs. This is where the essence of effective link building lies. One thing to keep in mind is link to blogs that have tremendous value.
5. On-page SEO – If you do not do on-page optimization, your content with enormous information might still fail. This is the most important tip in the SEO tips section. On-page optimization refers to both the content as well as HTML source code that should be optimized. What all you need to incorporate in your content to achieve this are:
Create a title tag with your main keyword in it, only once (not many times). The same goes for Meta description and H1 tags. Every page must have 1 Meta description and 1 H1.
Your title should be magnetic which would compel the user to click on your link. You may take a look at some of the viral sites on FB and other places to get an idea of what gives them high click-through rates.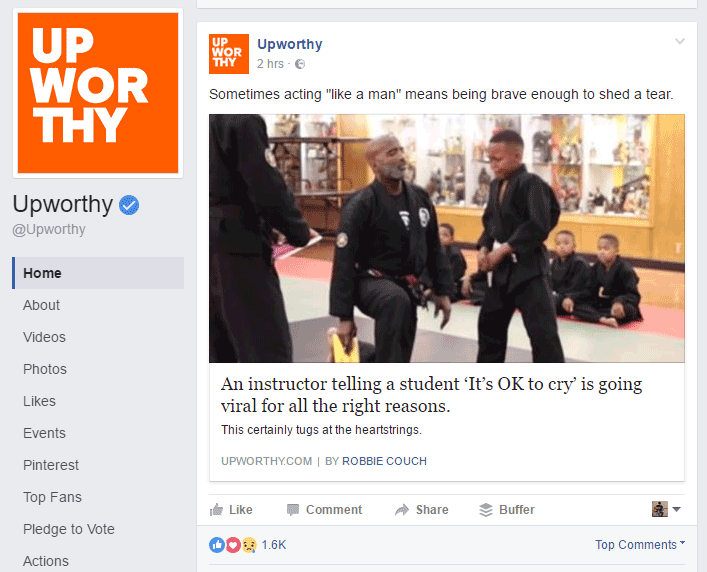 For those of you who run an eCommerce site, a general rule of thumb that is recommended is having a format like "buy [product name] online". Adding the word "buy" to your title is quite likely to get many hot prospects. You can use that as a template so that you don't have to write 1000's of titles for each product on your site.
An optimum value for title tags and Meta description are 512px and 923px respectively. Anything more might truncate your text in search results. Truncation doesn't only look bad but it can have a huge effect on your CTRs as well.
Your content comes first, then all the flurry of ads et al. Users want to see your content hence they come to your page, so make sure they see your title first thing and not annoying ad pop-ups. Google also penalizes those who have full-screen ads on mobile devices which block users from seeing the content the moment they come to your page.
Your site should be optimized for mobile as well as easily available to those with disabilities.
An eCommerce website must have images with an alt text description so that they can be listed in Google images. Google images draw hefty traffic. But don't make the images huge, they should be compressed for a fast download. You can make use of the "Imagify" feature in WordPress to do this.
Slow pages that take more than 3 seconds to load are abandoned quickly. They also do not get top organic listings. So get rid of extra plug-ins, keep your sidebar free from too many widgets, do not have elements on your page that slow it down and are not essential. Google takes site speed as a very important factor in ranking them. Google Pagespeed insights will give you a feel of what's your current loading speed along with recommendations that you can employ as suitable to you.
6. Give extra link juice by arranging pages hierarchically – All your pages on your site should ideally be just a few clicks away from your main page. Also, providing extra entry points for some important pages on your site gives them extra "link juice".
7. Install SSL certificate to make your site safe – There is an extra ranking edge given by Google to sites that use https. Most pages that capture user information should be encrypted. One way to get SSL certificate is taking help from "Let's encrypt".
On top of these SEO tips, you must keep in mind that your domain name is also crucial for your site's success. Using a domain name that is classy and conveys the spirit of your web site is a better option than cramming keywords into your domain. It is also important not to constantly keep changing your domain name. Therefore,the SEO tips related to the domain name is our surprise SEO tip.
Keep your content up-to-date with new findings and technology so that you stay on top of the ranking list with changing times, and so these SEO tips will work well on your website.